Rebekah Arnold
Director of Operations
Our practice manager, Rebekah, joined our staff in 2007. She has worked in veterinary medicine since 2000. Her favorite aspects of working at Beachwood Animal Clinic include meeting with new clients and patients, educating clients about their pet's conditions, and helping to serve her community. In her spare time, Rebekah enjoys spending time with her husband, daughter, and stepdaughter. She also loves to cook, surf, read, and likes to live the beach life! Rebekah's furry family consists of Mr. Binx the Pug, Lola, Aubrey and Talullah Marie (Tooter) the French Bulldog.
Danielle Haney
Practice Manager
Danielle was born and raised in Hockessin, Delaware and earned her Associates degree from the University of Delaware. Danielle moved to Florida in 2013 to pursue a career in the animal field and worked at the Marine Science Center where she specialized in wild avian rescue and rehabilitation. Her experience there led her to veterinary medicine, and she found a home at Beachwood Animal Clinic in April of 2015.
Danielle's areas of special interest are small animal dentistry and emergencies. When she's not at the clinic, she enjoys spending time with her boyfriend, fishing, painting and playing volleyball. Danielle loves all creatures from no legs to four, and shares her home with chihuahuas Nala and Bambi, as well as the newest addition: a kitty named Frank.
Tracy McNabb
Veterinary Technician
As a Florida native, Tracy grew up on a farm in West Sanford. In high school she started her animal career working in the kennels at a clinic in Lake Mary. Following her graduation from Seminole Trinity Christian School, Tracy worked her way up to be an excellent veterinary technician. She enjoys working with all animals small and large with a special love for our feline friends. In her spare time she enjoys kayaking, scuba diving, fishing and horseback riding. Along with her husband and 2 daughters, Tracy has a furry family of her own consisting of 4 dogs (boxer mix, standard poodle, rat terrier and a min pin) and 3 cats (2 domestic short hairs and a rag doll). Come in and see Tracy as she is thrilled to be part of the Beachwood family.
Chelsea Swiger
Client Care Specialist
Chelsea was born and raised in Sevierville, Tennessee where she met her loving husband Tim. Chelsea and her husband moved to Florida in search for new growing opportunities in 2014. Chelsea has a very deep compassion for all animals big and small. Growing up she was an avid volunteer for many rescue facilities in her area. Chelsea is currently enrolled in Penn Foster to further her education and become a certified veterinary technician. In her spare time she enjoys spending time with her family which includes her husband and 3 fur babies; Bailey the beagle and her 2 cats Oreo and Smokey.
Melia Richards
Veterinary Technician
Melia started her veterinary career while working with the National Park Service doing Sea Turtle conservation and education. As her love for all creatures grew, she found a home at Beachwood in 2016 as a veterinary technician. Melia has a deep passion for all animals and nature and can't wait to meet you and your pets. Her furry family consists of three dogs (two German Shepherds and a blood hound) and a cat named Skipper. When she's not working, she enjoys going to the beach, fishing and sailing on her boat.
Celena Alverson
Veterinary Technician
Celena was born and raised in Jacksonville, Florida, and earned a degree in Zoo Animal Technology from Santa Fe College. After graduation, Celena began her veterinary career at the Jacksonville Zoo and Gardens as a Veterinary Nutrition Technician. She loves all aspects of the veterinary field and moved into general practice at Affiliated Veterinary Specialists in Daytona Beach, where she also specialized in surgery before joining the team at Beachwood. Celena lives with her boyfriend Josh and their two corgis Amelia and Atlas, and in her spare time enjoys reading, baking and going on adventures!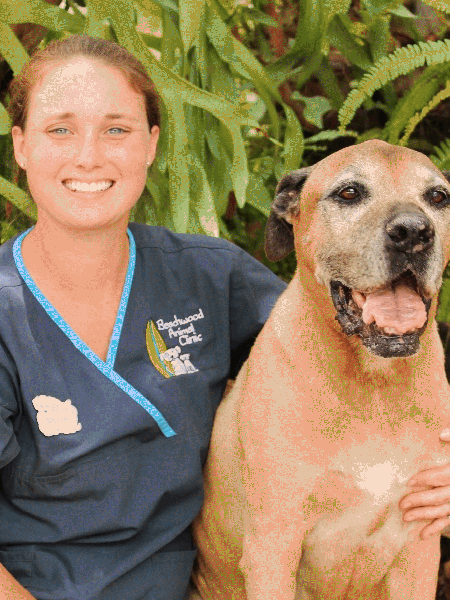 Megan Maresca
Veterinary Technician
Megan is a New Smyrna Beach local, and was born and raised in Samsula. She has been with the Beachwood family since 2007 but did take some time off to raise her two children. Along with her "wild and loving" kids, Megan's family includes three awesome dogs named Diesel, Stella and Kodi; a donkey named Earl; Kiki and Lexi the cats; a flock of ducks, a handful of chickens and a pot-bellied pig. When she's not helping pets at Beachwood, Megan loves spending time with her husband and ever-growing pet family.

Sara Dodson
Veterinary Technician
Originally from the mountains of North Carolina, Sara recently moved to Florida with her husband and daughter and is happy to call New Smyrna Beach home. She began her veterinary career over 11 years ago at an animal rescue organization as a Surgical Technician and a Feline Care Specialist. She has over 5 years' experience in small animal medicine and most recently managed an after-hours emergency clinic. When not at work, Sara enjoys spending time with her five furry children (3 dogs and 2 cats), playing on the beach with her family and reading a good book.

Jessica Koerick
Veterinary Technician
Jessica is a New York native who has been a veterinary technician for 12 years, and with the Beachwood family since 2018. She loves meeting clients and their pets and is very knowledgeable about caring for animal companions. In her free time, Jessica enjoys hanging out at the ball field with her husband and two daughters playing softball and teeball. Her family also includes a sweet pit bull named Mama.

Ethan Laureano
Technician Assistant
Born and raised in New Smyrna Beach, Ethan grew up with a passion for helping animals and volunteered at Beachwood while still in high school. He's currently enrolled in the veterinary assistant program at Daytona Beach State and hopes to continue to grow and move up in the veterinary field. When he's not working or studying, he enjoys spending time outdoors and with his extended animal family, which includes at Siberian husky named Sky and a flock of chickens.

Isabella Ligatino
Technician Assistant
Isabella graduated New Smyrna Beach High School in 2016, attended Daytona Beach State College, and is now attending St. Petersburg College in pursuit of her Certification in Veterinarian Technology. She has always had a passion for animals of all kinds and enjoys furthering her knowledge of veterinary medicine while working at Beachwood Animal Clinic. She also is an avid fly fisherman and enjoys all New Smyrna Beach has to offer.