Danielle Haney
Practice Manager
Danielle was born and raised in Hockessin, Delaware and earned her Associates degree from the University of Delaware. Danielle moved to Florida in 2013 to pursue a career in the animal field and worked at the Marine Science Center where she specialized in wild avian rescue and rehabilitation. Her experience there led her to veterinary medicine, and she found a home at Beachwood Animal Clinic in April of 2015.
Danielle's areas of special interest are small animal dentistry and emergencies. When she's not at the clinic, she enjoys spending time with her boyfriend, fishing, painting and playing volleyball. Danielle loves all creatures from no legs to four, and shares her home with chihuahuas Nala and Bambi, as well as the newest addition: a kitty named Frank.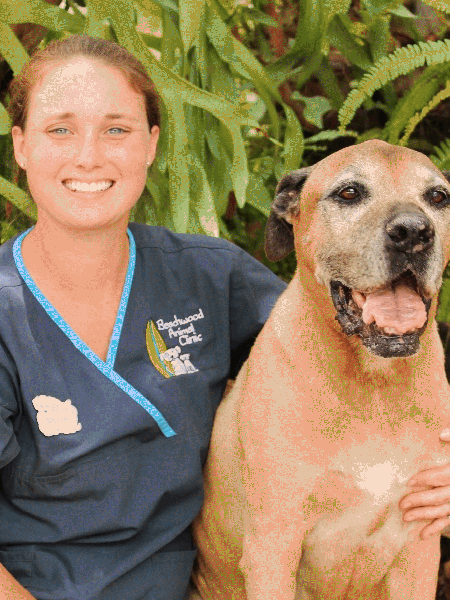 Megan Maresca
Veterinary Technician
Megan is a New Smyrna Beach local, and was born and raised in Samsula. She has been with the Beachwood family since 2007 but did take some time off to raise her two children. Along with her "wild and loving" kids, Megan's family includes three awesome dogs named Diesel, Stella and Kodi; a donkey named Earl; Kiki and Lexi the cats; a flock of ducks, a handful of chickens and a pot-bellied pig. When she's not helping pets at Beachwood, Megan loves spending time with her husband and ever-growing pet family.

Caley
Veterinary Technician
Caley is originally from Fort Gratiot, Michigan, and has always been an animal person. She grew up on a horse farm and eventually moved to St. Pete, where she earned an associate degree at St. Petersburg College and then became a certified veterinary technician. She shares her home with a mutt named Shiva Diva, a deaf dog named Pollyana and a Basset hound named Henry Howell. In her free time, you can find her on her paddle board with her dogs, at a farmer's market or relaxing on a boat.
Megan
Lead Customer Service Representative
Megan grew up and lived in Loxahatchee, FL, until 2002 when she moved to New Smyrna Beach. She has worked with dogs, horses, goats and cows, and she participated in a vet program in high school. She shares her home with Dixie, a 14-year-old black Lab who loves to play with tennis balls. Megan enjoys spending her free time with her family, reading and helping her dad and husband build marine diesels.
Samantha
Samantha grew up in Pennsylvania, attended a vet tech program in Pittsburgh and moved to Florida to be closer to her parents. She shares her home with an Australian shepherd named Murphie, a Chihuahua named Calvin and a fish named Peaches. In her free time, Samantha enjoys shopping, going to the beach and spending time with her family and her dogs.
Ashley
Veterinary Technician
Ashley grew up here in New Smyrna Beach and was home schooled though high school. She knew she wanted to work with animals when she was just a little girl. She completed the Penn Foster Vet Tech program and has 15 years of job experience. She shares her home with a Frenchie named Peppa, and a shepherd mix named Sierra, as well as a cat named Levi. Ashley enjoys spending her free time with her two kids and her animals, getting her nails done, going to the beach and fishing.
Sommer
LVT
Sommer was born in Wisconsin and always wanted to work with animals. She earned a bachelor's degree from the University of Wisconsin and attended the University of Southern Nevada, where she became a licensed veterinary technician. She shares her home with Rookie, a 9-year-old, 100-lb Belgian Malinois; Juno, a terrier found in Ocala National Park, and Scooter, a goldendoodle with epilepsy.
Julie
Julie grew up in a small beach town. She says that her love of animals runs deep in her blood, and she has fostered kittens, puppies, rabbits, horses and even rats. She shares her home with a goofy hound named Red and Chihuahuas Bella and Pablo. She also has two cats, Milo and Suzie. In her free time, she enjoys fostering, family time and being outdoors.